Not a Curriculum Vitae but Rather a 'Connected Vitae'
For a more formal Curriculum Vitae, please see my LinkedIn profile.
This is a collection of comments, quotes and views of things I've done in this wonderfully connected, digital world that we live in:
(Stopped updating in 2013)
~~~~~
#FF @datruss one of my first ever followers who gave me the confidence to build my network out. Haven't stopped learning from him since!

— Jasper Fox Sr. (@jsprfox) October 18, 2013
 ~~~~~
@datruss amazing presentation tonight at the #dpac43 event #bced thanks David.

— emil zimmermann (@ezimme) October 10, 2013
 ~~~~~
One of my favourite K-12 Online Conference Presentations by @datruss et al. Worth a review: http://t.co/F6luNm6APo #ontcl #onted #sgdsb

— Donna Miller Fry (@fryed) July 26, 2013
 ~~~~~
Sheri Edwards – #etmooc #clmooc Week 3 Reflection #f5f 07/07/2013
I'm sure David is doing some form of these because that's why I read his blog posts at http://pairadimes.davidtruss.com/  — to learn from a master.
~~~~~
EdTech Magazine – Ricky Ribeiro – The 2013 Honor Roll: EdTech's Must-Read K–12 IT Blogs 06/13/2013
Meet some of the best and brightest voices in education technology…

David Truss: Pair-a-dimes for Your Thoughts ~ While some educators are offering their "two cents" on ed-tech, school administrator David Truss doubles up with his blog by offering 20 cents. This blog, which Truss has been running for seven years, is a treasure trove of ideas that any educator can use.
EdTech's 2013 Must-Read K-12 IT Blogs
~~~~~
With 7 years under his belt, @datruss's blog is a treasure trove of ideas that any educator can use: http://t.co/fbGxC917Jw

— EdTech K–12 Magazine (@EdTech_K12) June 4, 2013
~~~~~
Jesse McLean – Engagement is Enough! 04/22/13
My morning today was spent at the Inquiry Hub with David Truss, hearing how they are able to provide students with the time and space to really take ownership of their learning. Speaking with Gallit and David, you can see their pride in their students and the amazing projects they are doing. They are eager to share just how driven their students are when working on work they care about.
~~~~~
EdTech Magazine – David Truss – How Do You Teach Digital Literacy? 03/25/2013 |  Appears in the Spring 2013 issue of EdTech Magazine.
The developer of a digital literacy curriculum reveals how to bring substance to its instruction.

About the Author ~ David Truss is a vice principal for School District No. 43 in Coquitlam, British Columbia, and helped spearhead efforts to develop the Inquiry Hub. Read his blog, one of EdTech's top 50 must-read K–12 IT blogs, at pairadimes.davidtruss.com and follow him on Twitter at @datruss.
~~~~~
@datruss @thomasdaccord @mikeslinger7 Thx for pushing my imagination & kicking my biases this past weekend at #Educon #Educon25 Good stuff!

— Christian Long (@ChristianLong) January 29, 2013
~~~~~
 Andreea Moldovan – Onalytical – Top 100 Influential Education Blogs 01/28/2013
Over the last 5 years there was a sharp increase in the number of education blogs in various areas such as art education, technology, creative writing, mathematics, or drama, from primary school level to lifelong learning approaches.

Despite this surge in education blogs, there haven't been many attempts at classifying the blogs according to their authority. We will present a ranking of education blogs ordered by their Onalytica Influence Index.
~~~~~
Iowa Future – Technology should be like oxygen 01/27/2013
"Technology needs to be like oxygen—ubiquitous, necessary and invisible," says Chris Lehmann in just one of several educational technology clips included in "A Conversation Starter" article and video created by David Truss at his Pair-a-Dimes for Your Thoughts blog.

Truss, a school administrator from Canada, created the three-minute video to spark educational technology discussions with the hope of promoting "further exploration, conversation and learning."
~~~~~
Mark Gleeson – Edublogs Awards 2012 nominations 11/15/2012
Best administrator blog – David Truss ( Pair of Dimes)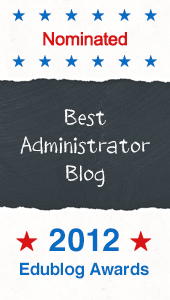 ~~~~~
Gerry Cockburn – LinkedIn Update 11/11/2012
~~~~~
David did an outstanding presentation last year for the K12 Online Conference on "Transforming Learning". You'll enjoy watching the presentation later! One of the best I've ever seen on the topic! 

http://k12onlineconference.org/?p=996
~~~~~
EdTech Magazine
–
The Honor Roll: 50 Must-Read K–12 Education IT Blogs
06/11/2012
Our Inaugural Selection of the Best IT Blogs…

David Truss: Pair-a-dimes for Your Thoughts ~ School administrator and frequent conference presenter David Truss waxes philosophical on education, learning and technology in this blog. His areas of interest include student leadership, social responsibility, open learning and classroom technology integration.
~~~~~
Barbara Bray – David Truss on the Inquiry Hub (Thought Leader Interview) 04/25/2012
Dave shared his thoughts and writes about Inquiry in a way that makes it easy to understand. Kathleen McClaskey and I asked Dave some questions about the Inquiry Hub and personalized learning. He shares how his school will fit well with the BCedplan and the future of education in their Province. It fits well with Coquitlam's School District's collaborative work on "Learning Without Boundaries".
~~~~~
Jennifer Barker – 21st Century Learning Is HERE 02-23-2012
Last night I attended an information session given by District Principal Stephen Wiffin and Principal David Truss from Coquitlam, School District #43. Together they shared their vision and plans for The Inquiry Hub, a new high school set to open in September.
…My accolades go out to the Inquiry Hub team, because as they work collaboratively with researchers from SFU, the Ministry of Education and others in designing this program, we will undoubtably be able to learn from them.
I thought is was aptly put when a member of the audience referred to Mr Wiffin and Mr. Truss as "pioneers of 21st Century Education in BC". I would agree! 21st Century Education is here and it is exciting!
~~~~~
Vicki Davis & Julie Lindsay – Flattening Classrooms, Engaging Minds o2/03/2012
(My quote, page 6. Pearson Resources for 21st Century Learning)
"In January 2007, one of my students talked about my global project and said, I really liked the use of blogs and forums for this project. It really keeps everyone connected even outside of school." This, to me, is an essential component of what makes a classroom great!
Learning used to be confined to the walls around a classroom. Except for the occasional field trip, guest speaker, or video, teaching and learning was defined by the limitations of the classroom space.
Now, the world is our classroom! Our teachers are teachers, students, authors, experts, and parents with whom we have the potential to work when we tear down the walls and open our classrooms to a flat world—where learning has no limits other than the ones we impose ourselves.
Do not go quietly into your classroom. Engage. Be brave!19
~~~~~
Dr. Dan W. Brown – iNACOL and Annual Blog Awards 11/16/11
…Also time to nominate for Education Blogs:

Best School Admin Blog: Pair-a-dimes by David Truss http://pairadimes.davidtruss.com/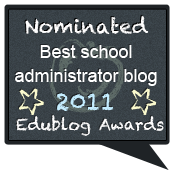 ~~~~~
Crystal Pelletier  – Thinking & Sharing 11/02/2011
Thanks so much to David Truss @datruss for posting his video "A Brave New World"…

I love David's message to "lead, learn, engage, & be brave, do not go quietly into your classroom!"
Thank you David for making me think, and thanks for inspiring me to share this with my colleagues.
~~~~~
Meghan Daniels – The Knewton Blog – EdTech Blogs We Love: Disrupt Education, Weblogg-ed, Pair-a-dimes for Your Thoughts 06/13/2011
Pair-a-dimes offers an inspirational perspective on the importance of educational openness and the possibilities afforded by educational technology.

Check out posts like:
~~~~~
Stephen Downes – Open Education Manifesto 4/12/11
David Truss authors and expands upon a worthwhile education manifesto. "Teaching is my professional practice," he writes. "I Share by default. I am Open, Transparent, Collaborative, and Social." Nice.
~~~~~
Jonathan E. Martin – A Few of my Favorite Blogs 12/31/10
David Truss is the independent school (international independent, in Dalian, China) administrator whose blog I currently most admire; he writes at Pair-a-Dimes for Your Thoughts. He posts 2-5 times a month; he writes about his school-work and his educational philosophy interchangeably;  and he uses images powerfully.  He is also unafraid to write at length.     Some recent posts I admired include:

• a goal that is nothing less than making the world a better place
~~~~~
Amalia Giebitz – Reflecting on 2010: Digital Story Highlights 12/23/10
I have to thank my friend and digital mentor, David Truss…  David started me on this pathway over a year ago, and lit a fire under me to re-engage with a creative part of myself that had long gone dormant.
~~~~~
Chris Kennedy – Professional Learning Beyond Borders 11/26/10
It is always dangerous to make a list, knowing I will miss some key people, but some of those within B.C.'s education system who are influencing my thinking right now include:  David Truss (a Coquitlam principal currently working in China), …
~~~~~
Lyn Hilt – Thanks… (2010 Edublog Award Nominations) 11/15/10
* Best individual blog – David Truss – Pair-a-Dimes for your Thoughts  David is an amazing soul. He is consistently positive, eager to help colleagues, and his posts are inspirational and informative. I appreciate reading about his experiences and ideas, and I'm thankful he has taken the time to comment on my own thoughts on many occasions.
Beth Knittle – Edublog Award Nominations are now Open 11/11/10
Best individual blog:  Pair-a- dimes for your thoughts – David Truss
~~~~~
Sabrina De Vita – My 2010 Edublog Award Nominations 11/15/10
Best School Administrator blog by David Truss Pair-a-dimes for your thoughts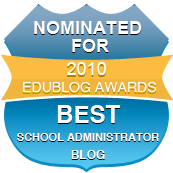 Eduardo Peirano – My 2010 Edublog Award Nominations 11/14/10
Best school administrator blog: from David Truss Pair-a-dimes for Your Thoughts
~~~~~
Rob Griffith – What Came To Mind 9/22/10
I am Inspired to Incorporate. David Truss is a principal of a PreK-9 Foreign Nationals School in Dalian, China. His blog, Pair-a-dimes for your thoughts, inspires me to look beyond the classroom. To initiating contact with parents and those around me in an attempt to promote outcome and achievement. His focus on student challenges and success are the driving force behind my planned outcomes.
~~~~~
Lorna Costantini – Parenting in the Digital Age by David Truss 8/30/10
…Raising Digital Kids wikispace created by David Truss. This is a really solid resource for both parents and teachers to use to work together around parenting and parenting in a digital age. You will want to review Parents as Partners: Questions and Advice for a series of questions and suggestions about how to help raise children in a digital age. Teachers will find this a wonderful support document for working with families in their school.
~~~~~
Shelly Terrell – It's Worth Taking a Look at This Blog!  5/14/10
• Pair-of-Dimes For Your Thoughts by David Truss- His posts continuously make me reflect on my pedagogy and instructional practice.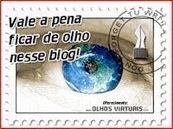 Sabrina Da Vita – Blogs Worth Taking a Look at… 5/11/10
So here goes my list of 10 blogs to recommend […]

David Truss Pair-a-dimes: Great reflections on education, technology and learning.
~~~~~
Richard Byrne – A Brave New World-Wide-Web  4/14/10
A Brave New World-Wide-Web is a video that David Truss produced a couple of years ago…

Karl Fisch's Did You Know? (in all of its various forms) is often played at school professional development sessions in an attempt to illustrate to teachers how different the world of today's students is compared to the world when we were students. David Truss's A Brave New World-Wide-Web could also be a great video to share with teachers at professional development sessions. In fact, I might be more inclined to show Truss's video because it shows what students can do with today's web and the advantages of education with the web versus education without the web. This point is driven home in the video with the statement, "can you teach without technology? Yes, but why would you want to?"
~~~~~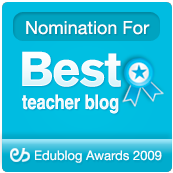 Jan Smith – My Edublog Awards Nominations 12/4/09
Best teacher (leader) blog: http://pairadimes.davidtruss.com/ I am actually cheating on this one because David Truss is technically an administrator, but he is always a teacher. I think it is time the Edublog Awards recognize the influence of blogging administrators. David has always been an educator who reflects on his practice. The whole community benefits from his thinking out loud, as well as his encouragement.
~~~~~
Eduardo Peirano – My Nominations for the 2009 Edublog Awards 11/28/09
Most influential blog post…     My blog is my PhD, by David Truss
~~~~~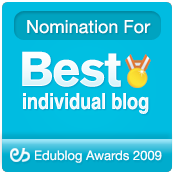 Bryan Jackson – Edublog Award Nominations 11/28/09
Best individual blog  Dave Truss'  Pair-a-Dimes for Your Thoughts – I am a big fan of Dave Truss', and not only because he encouraged my school's English department to start blogging, and offered this blog its first encouraging comments. But because he writes fantastic pieces like his Remembrance Day Two Wolves post that is based in the philosophy of moral conduct and yet told through a tale of modern travel and warfare, framed in age-old mythology.
 ~~~~~
Lisa Nielsen – The PODs Are Coming! 10/12/09
Every so often I think it is important to share great presentations, videos, or posts from other bloggers. This one falls into that category. It's a presentation shared at the Building Learning Communities conference Manhattan model school leaders and I attended last summer from blogger David Truss :: Pair-a-dimes for Your Thoughts.

…For some insight into the answers to these questions, it is my pleasure to invite you to view this provocative presentation.
~~~~~
Ayanna Gillian – Teaching Girls and Web2.0 10/3/09
The video, A Brave New World Wide Web looks at the benefits, more like the imperative of using the web in teaching. It outlines how the making of connections, such an important part of learning and critical thinking, is so perfectly facilitated by the use of web technology in the classroom and makes the case for the classroom becoming a digital entity without borders.
~~~~~
Sharon Elin – More show and tell: Dave Truss rocks! 7/31/09
Not only does this slideshow offer highly important points about opening our minds to new technology in education, but Dave Truss, author of the Pair-a-dimes For Your Thoughts blog, knows the secrets of polishing his visual material so it captures his audience's imagination along with its intellect. This is a perfect example of ditching the tired, boring, bulleted PowerPoint. Instead, he uses engaging images that bring the text to life.

His message may seem radical to some teachers who are resistant to new technology such as handhelds and cellphones, but his approach is so provocative and convincing that I can't imagine audiences refusing to entertain his ideas, at least long enough to peek into the possibilities while going along for the ride.

Share it with teachers and administrators near you!
~~~~~
Stephen Downes – The Rant, I Can't, The Elephant and the Ant- On SlideShare 7/25/09
I found the slide show through the Web 2.0 Slideshare group…

It's a good presentation, and a nifty use of video.
~~~~~

Curriki – Developing a Student Leadership Program at Como Lake Middle School – Masters Paper 2/1/09
This resource was reviewed… and received an overall Curriki Review System rating of 3 – Exemplary

Component Ratings:
• Technical Completeness: 3
• Content Accuracy: 3
• Appropriate Pedagogy: 3

Reviewer Comments:  This resource is a Masters thesis on how to develop and improve a student leadership program at a middle school level… This thorough educational document would be useful to anyone at the mid school level looking at a leadership program.
~~~~~
A. Salt – BLC 08 DAVID TRUSS "THIS MY BLOG HAS TAUGHT ME" 1/2/09
It is BLC 08 and in particular these 2 talks by Ewan McIntosh and David Truss, that I credit with the creation of this blog and my Spanish wiki http://spanishingrosvenor.wikispaces.com Here's to connecting with others and pushing ourselves further in 2009!
~~~~~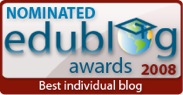 Liz B. Davis– Edublog Award Nominations 11/27/08
The problem is that I have so many blogs to choose from. I have more that 1000 unread items in my Edtech folder alone. Here are a few of my favorites.

Best individual blog: Pair-a-dimes for Your Thoughts
 ~~~~~
John Goldsmith – The Brave New World-Wide-Web 9/24/08
The Brave New World-Wide-Web is a video creation by educator David Truss focusing on technology and teaching.

While there have been lots of people commenting on technology and teaching, this one created by BC educator and fellow blogger David Truss really nails it, IMHO.
~~~~~
~~~~~
More about David Truss
     I have a few blogs that I am using to chronicle who I am and what I do as an educator. My Pair-A-Dimes for Your Thoughts has a philosophical bent to it: my thoughts on education, learning and technology. An extension to this blog is Podcasting Pair-a-Dimes, audio recordings also relating to education and learning.
My Daily-Ink is a not-so daily journal as well as things that don't make it onto my blog, or haven't gotten there yet. It includes quotes from other bloggers with my comments, or comments I've made elsewhere.
On this site, you can find links and references to my forays into the world of Web2.0, some of my Presentations, and Student Leadership resources based on my University of Oregon Masters paper.
Find out more on 'About Me', or on LinkedIn.
Feel free to Contact Me or explore resources in the links above or below.