Below is a complete Table of Contents for all my 'Pair-a-Dimes for Your Thoughts' blog entries
from April 2011, at the top, to March 2012, at the bottom.
Please visit my blog home page to see up-to-date posts: http://pairadimes.davidtruss.com
– – – – –
I write for me, I share with you, and the world seems a little smaller.
Just like last year, here is my blog's year in review: The posts I've written and a quote from each. I hope that you will find something that appeals to you. (Mouse-over the links to find out a bit more about each post.)
If you have subscribed to, commented on, linked to, or simply taken the time to read my blog… I say a heartfelt
Thank you!
– – – – –
" 'We' educate future citizens of the world
Teaching is my professional practice
I Share by default
I am Open, Transparent, Collaborative, and Social
My students own their own: (Learning)
• learning process
• learning environment
• learning products
• learning assessment…"
– – – – –
"I read a great article that I found in the December 2007- January 2008 edition of Focus on Dalian, "Slowly By Slowly" by Rob Giebitz. This was the first piece Rob wrote for his monthly column, 'The eXpat Manager'. The article starts:
"I first heard this phrase from our Chinese production manager. I have to admit that at first it sounded like just another Chinglish phrase."
Chinglish is a portmanteau of the words Chinese and English and refers to spoken or written English which is influenced by Chinese…"
– – – – –
1. Homework
2. Lesson Quality
a) Depth vs Breadth
b) How vs Why
3. Production Quality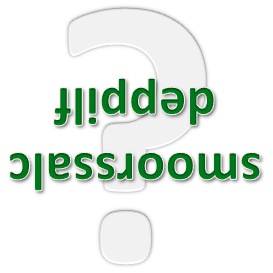 – – – – –
"How much class time is dedicated to explaining homework? How much class time is committed to checking homework answers? How valuable is the 'homework checking' time? Are the students who struggle most with homework the ones who get the most attention during 'homework checking' time? How much of your time is spent policing homework completion? How many positive conversations do you have regarding homework? How many students truly get value from homework? How many don't? How valuable is homework?"
– – – – –
"I'm blown away by the meaningfulness of my online connections to different people. Students are people too. Let's make sure we are providing them with opportunities to network and to meet friends from around the world. It's a huge double-standard to see the value in it for ourselves and then not allow students to do the same. Some of my best learning happens because of my social network connections… let students do the same… create opportunities for this to happen!"
– – – – –
"The reality is that I unashamedly want more attention… but not for the reasons people think. I'm not looking for fame or a new job. I'm looking to be the greatest influence I can be and a bigger audience to my blog means I have more influence, richer conversations, and more opportunities to learn. If I didn't want that, I'd journal privately and not blog."
– – – – –
Education is NOT broken.
"Let's start using language that is constructive rather than counterproductive. Let's use models based on questioning, innovation, and learning rather than complaining, alarming, and whistle-blowing. Our language shapes us and what we do. Try as we may, we do not find peace through a war on terror; We do not mend relationships with litigation; We do not 'fix' schools when we use a 'broken' model."

– – – – –
"This is an amazing project, and our students have learned a lot… but this has come with some rather large challenges, most of which arise from one big issue: We are in China, behind the Great Filter Wall. This is challenging enough, but with certain global 'social uprisings' recently, the wall has been fortified…"
– – – – –
"I see the shift in education towards Transparency (open teaching), Responsibility (before accountability), Individualization (customized tools and learning), and Permanence (of teaching and learning products) and I think that our roles as educators are necessarily changing in a good way."
– – – – –
"Scott McLeod has invited me to participate in a webinar on the 'flipped classroom'. My time zone is working against me as it will be 3am here in Dalian. With a few year-end commitments going on next week, coupled with an apartment too small to escape waking my family up, I may not actually get a chance to participate."
– – – – –
"I wasn't there. In fact, I was almost literally half-way around the world. It happened at the ISTE conference in Philadelphia, and I'm in Dalian, China. The session was called: What Does it Mean to Be a Tech-Savvy Principal?"
– – – – –
"I wanted to highlight student work and really show students and parents how our laptop program makes the educational experience different… I think students have an incredible opportunity to be creative in how they learn today! Also, the fact that they can share that learning with the rest of the world is pretty amazing."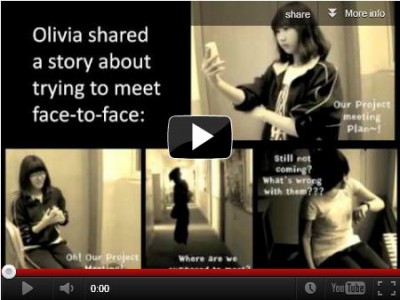 – – – – –
PICK A 'NO OFFICE DAY' – SEPTEMBER 12-16th, 2011
"At about the same time back in December 2010, Lyn Hilt & I both decided to spend a little more time in our classrooms rather than in our offices. Although I was in Dalian, China and she was in Denver, Pennsylvania, USA, we are both on Twitter and also on Connected Principals and we shared our experiences about our 'No Office Days'."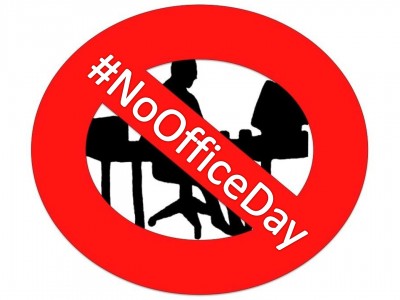 – – – – –
The Metaphor
"I used to see information like a large pool or lake… a resevoir of information to be collected, and held on to. Now I see information like a river… a constant stream of too much information to hold on to. The stream runs whether I'm near it or not."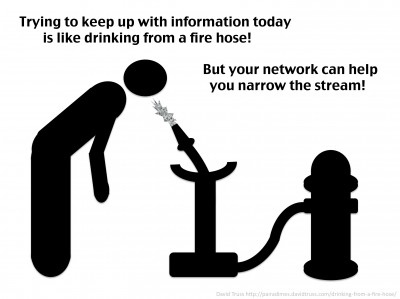 – – – – –
Within 5 years, every student from Grade 6 or 7 right up to
Grade 12 will be involved in some level of distributed learning.
"I'm also not just talking about Distributed Learning but, more specifically…
Blended learning – Blended learning is any time a student learns at least in part at a supervised brick-and-mortar location away from home and at least in part through online delivery with some element of student control over time, place, path, and/or pace;"
– – – – –
"Since writing my 3 Keys to a Flipped Classroom blog post, I have been reading many great contributions to the discussion around flipping classrooms. Last week I was commenting on Lisa Nielsen's thoughtful post Five Reasons I'm Not Flipping Over The Flipped Classroom and something occurred to me…
I have flipped my Professional Development!
I've done this with my blog and with Twitter."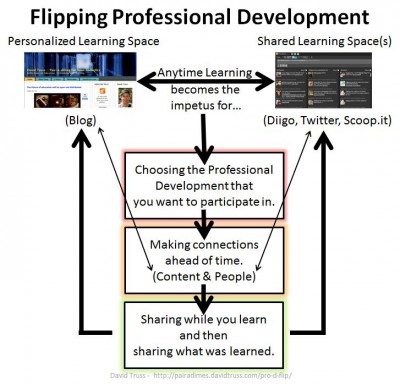 – – – – –
" …Now on to the idea of Accessibility:
The. Most. Important. Thing.
How accessible are our schools for every student?
What do we do to make learning opportunities more accessible?
Are tools, resources and expertise to support struggling students easily accessible?"
– – – – –
Before:
In non-digital/non-tech-using classes, 'the teacher' tended to differentiate the learning 'for students'.
And now:
With digital, social and collaborative tools, 'the students' tend to differentiate the learning 'for themselves'.
– – – – –
"Yesterday I sent out some invitations to help me with my K12Online Conference presentation. Today I've decided to demonstrate some of the key points around making connections, having a valuable network, and being an active learner. So, I am asking YOU…"
– – – – –
Klout: Influence = Social Status
Education: Influence = Social Good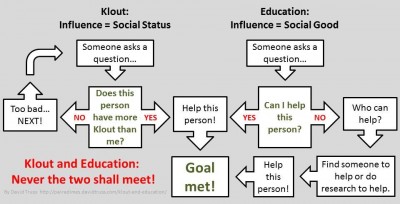 – – – – –
I'd rather let the video speak for itself, than to go on about it here. I'll just share that I really appreciate the time and effort people put into sharing their video interviews with me.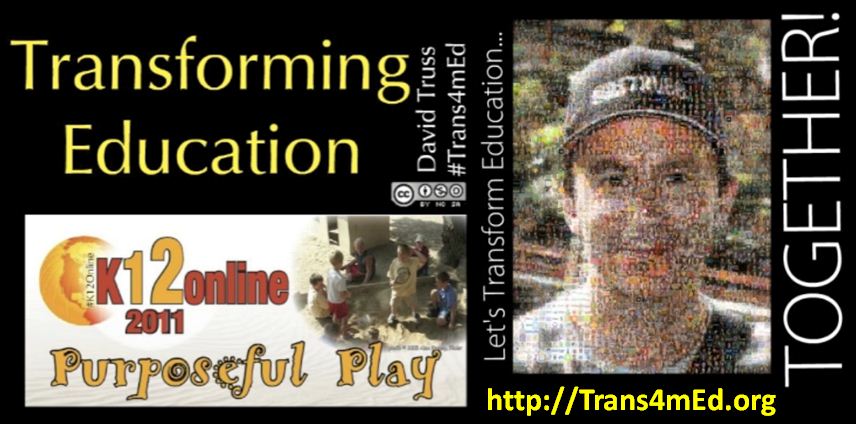 – – – – –
"…C.O.W. = 'Computers On Wheels', essentially a mobile cart which has a combination of a projector with a computer.
Long live the P.O.W. ~ Projectors on Wheels! Take the computer off the cart and put it in teachers' hands. Take the projector off of the ceiling mount and put it on wheels. Why?…"
– – – – –
My goal: Create a three minute video that tells it's own story, using other videos. My hope is that this will invite further exploration, conversation and learning.
Here is what I came up with: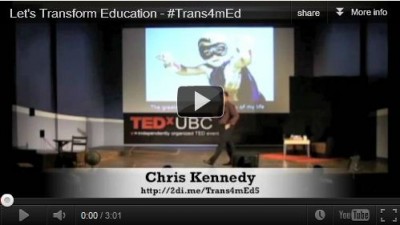 – – – – –
"The 5 year technology plan? Do this 5 years in a row: Purchase/spend for this year; make sure your infrastructure can support your needs for next year; and, re-evaluate frequently.
My advice beyond this…"
– – – – –
This school will fit well with the new BCedplan and the future of education in our Province. It fits well with our School District's collaborative work on "Learning Without Boundaries". And, it fits well with our team, who believe that we have reached a great point in our organization whereby we can fully develop and support this innovative program that embodies our educational and pedagogical philosophies.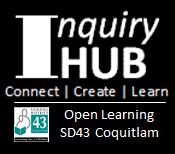 – – – – –
"Adria Steinberg's 'six As' of project-based learning…
Authenticity
Academic Rigour
Applied Learning
Active Exploration
Adult Relationships
Assessment
– – – – –
Ira reminded me of my post: Question Everything that I wrote, while still in China, to start off 2011.
Little did I know that within a year of writing this I would be part of the design and development team for a new school, the Inquiry Hub opening in September of 2012. Reading my post again, I am just thrilled to see that we truly are questioning everything!
———-
That's a year of posts! I hope that you have or that you will find something valuable to your own learning, and as always, I welcome your feedback.
Think good thoughts, say good words, do good deeds.